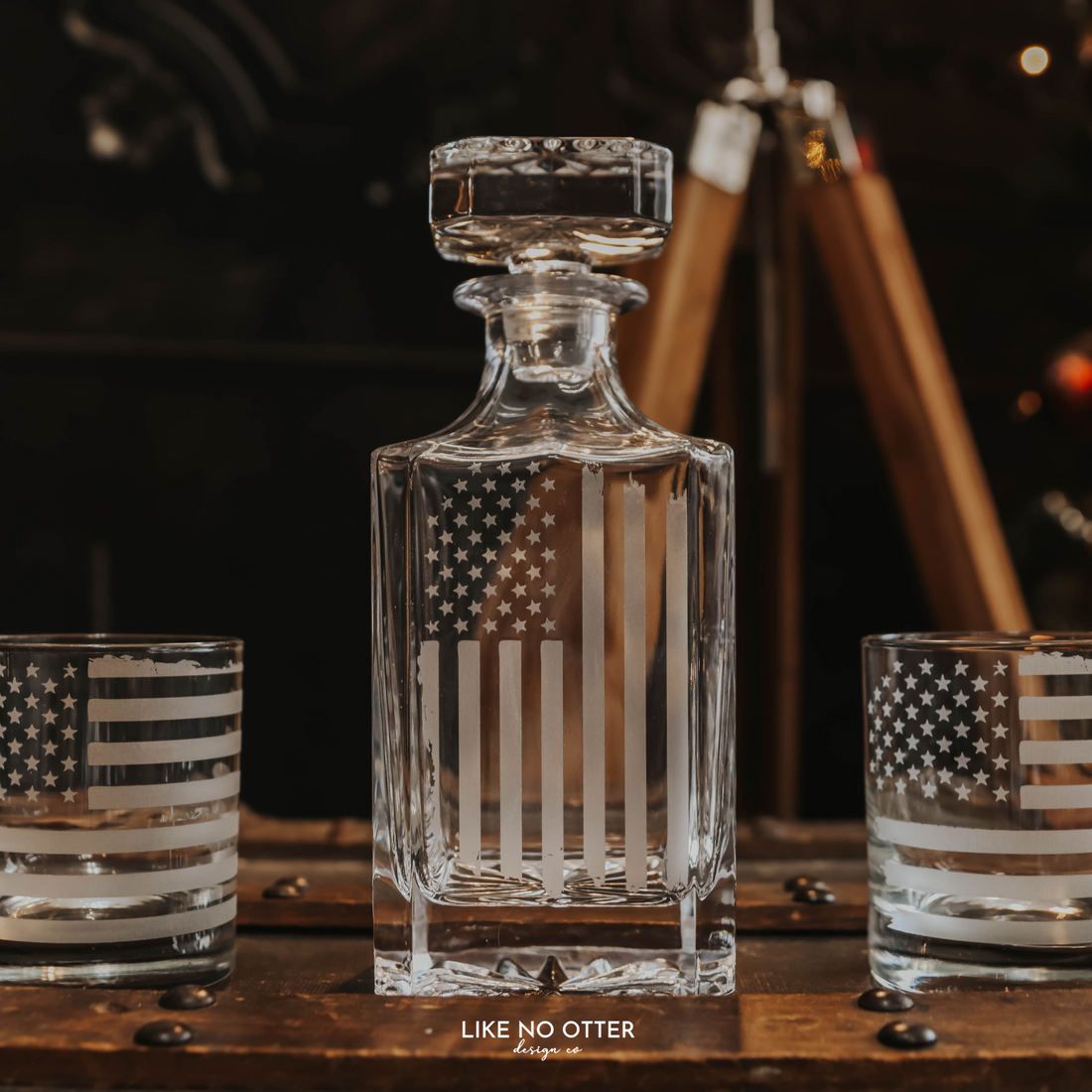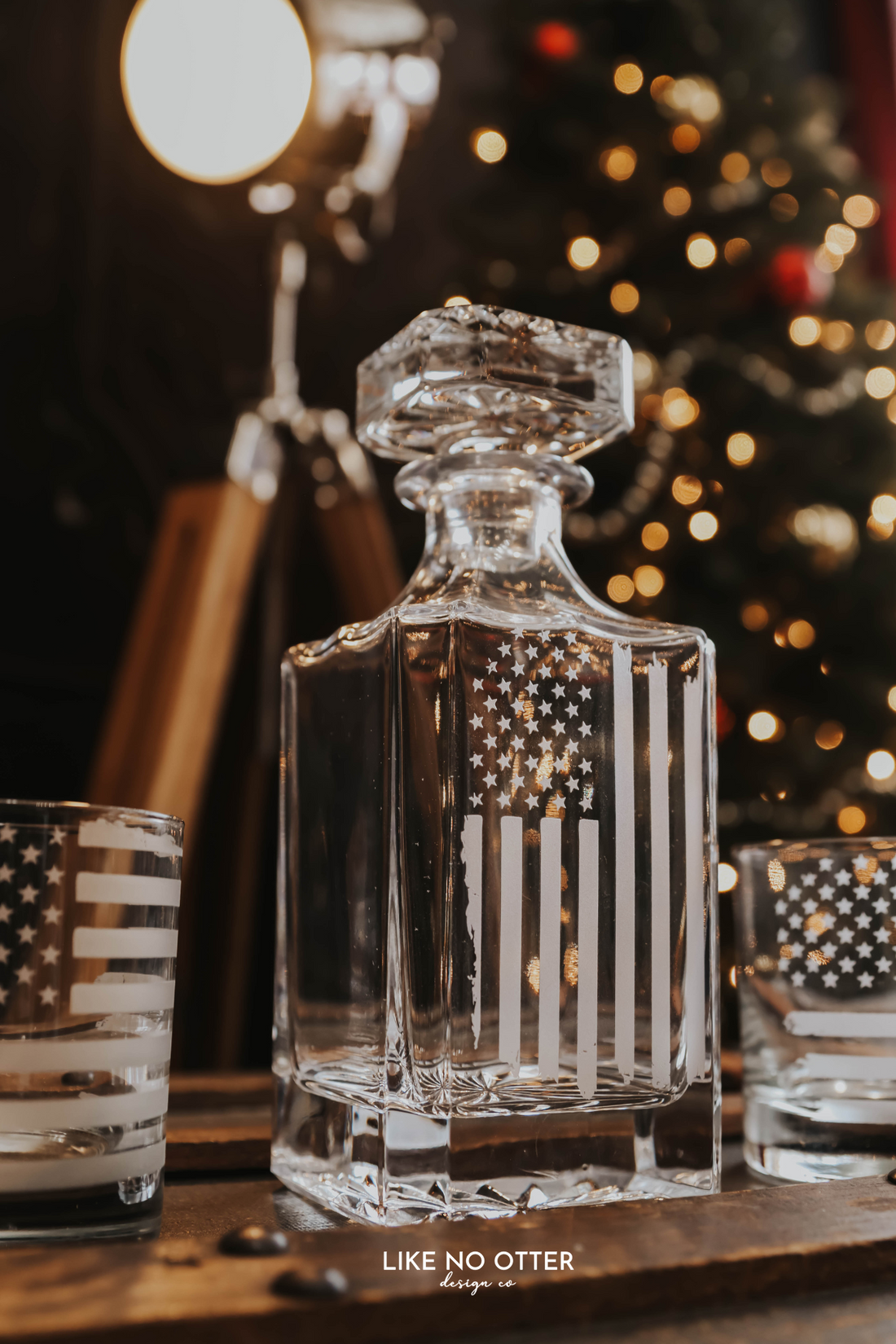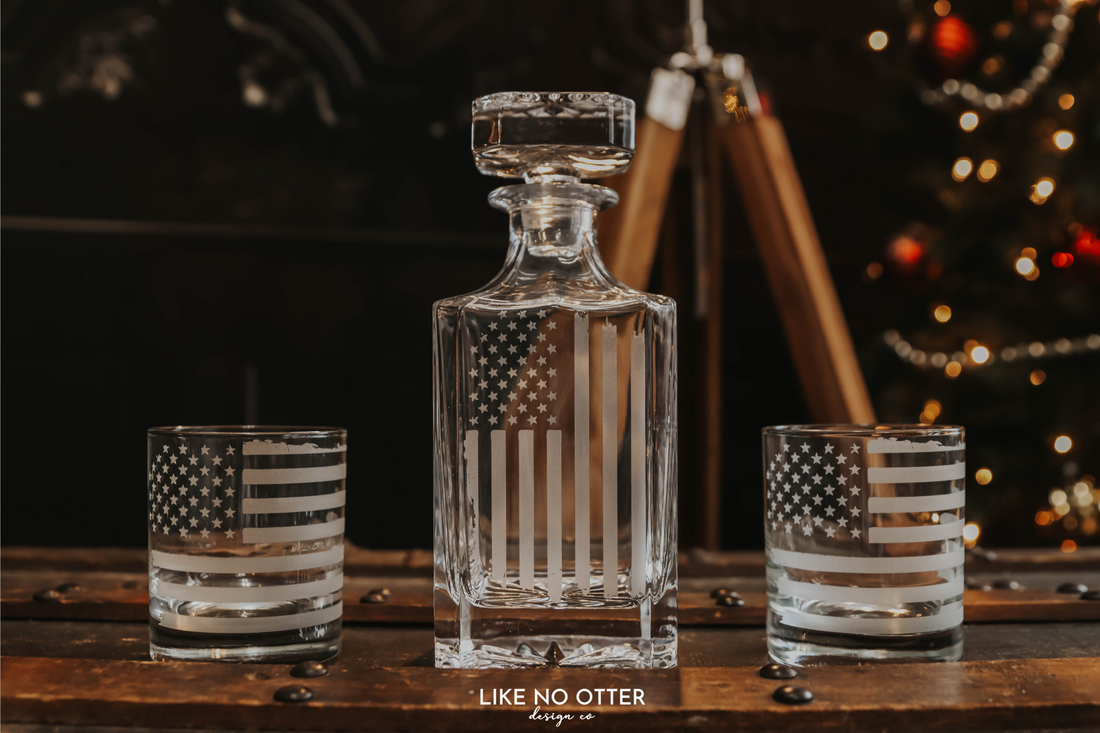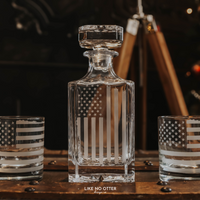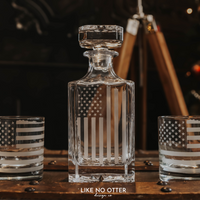 American Flag Decanter Set
Experience the epitome of craftsmanship and patriotism with our 750 ml decanter, expertly engraved with the iconic American flag. Meticulously designed using cutting-edge technology, our decanter boasts a flawless, sandblasted appearance that captures even the most intricate details, making it a true work of art. Elevate your home bar or decor with this exceptional piece that demands attention and admiration.
Key Features:
- Exquisite American Flag Engraving: Our 750 ml decanter features a finely engraved American flag, showcasing your patriotism in a tasteful and elegant manner.
- Premium Quality Glass: Crafted from high-quality glass, the decanter is durable and crystal clear, allowing you to appreciate the rich hues of your favorite spirits.
- Optional 11oz Matching Rocks Glasses: Complete your set with our optional 11oz rocks glasses, also custom engraved with the American flag motif. These glasses perfectly complement the decanter, creating a cohesive and visually striking ensemble.
- Personalized Touch: Make your decanter and glasses truly unique by adding a personal touch. Whether it's your name, initials, or a special date, our custom engraving service allows you to create a bespoke masterpiece tailored to your preferences.
- Smooth and Even Sandblasted Finish: The latest engraving technology ensures a smooth and even sandblasted finish, highlighting the intricate details of the American flag design. The result is a tactile and visually appealing surface that enhances the overall aesthetics of the decanter and glasses.
- Perfect Centerpiece: Transform your home bar, living room, or office into a patriotic haven with this striking decanter set. Its captivating design and meticulous craftsmanship make it the perfect centerpiece for any space, sparking conversation and leaving a lasting impression on your guests.
- Ideal Gift: Whether you're celebrating a special occasion or expressing your appreciation for a loved one, our American Flag Decanter Set makes an ideal gift. Thoughtful, personalized, and visually stunning, it's a present that will be cherished for years to come.
Elevate your home bar experience and add a touch of American pride to your decor with our Custom Engraved American Flag Decanter Set. Embrace the art of fine craftsmanship and showcase your patriotism in style. Make every moment memorable with this exceptional piece that exudes elegance and sophistication.
Note: Due to the personalized nature of our products, please allow additional processing time for engraving.
Our products are made to order! Our standard processing time is 3-5 business days to prepare your order to ship.
Due to the custom nature of our products, we do not accept returns on our products unless there is a material defect reported within 7 days of delivery. Please refer to our return policy for more information.