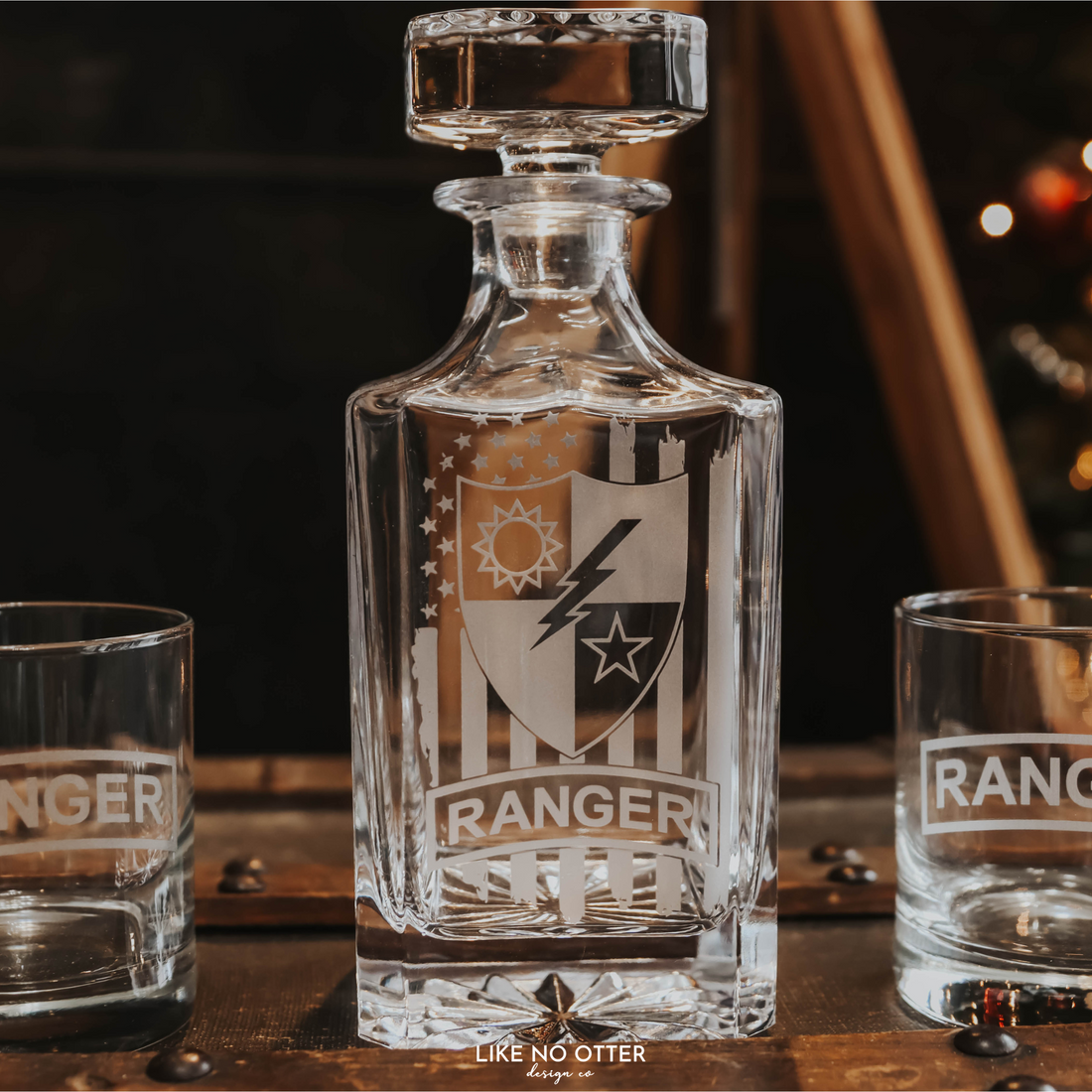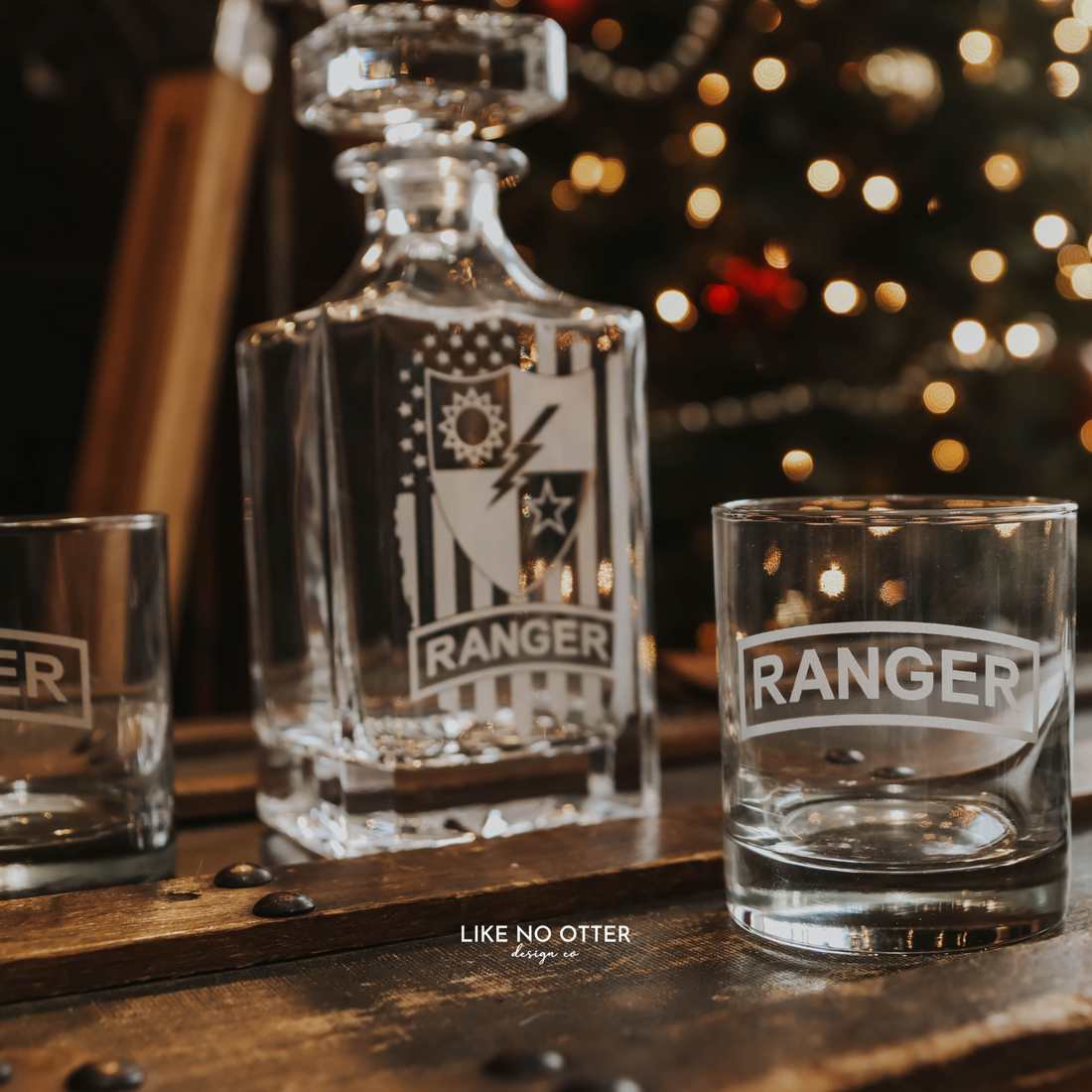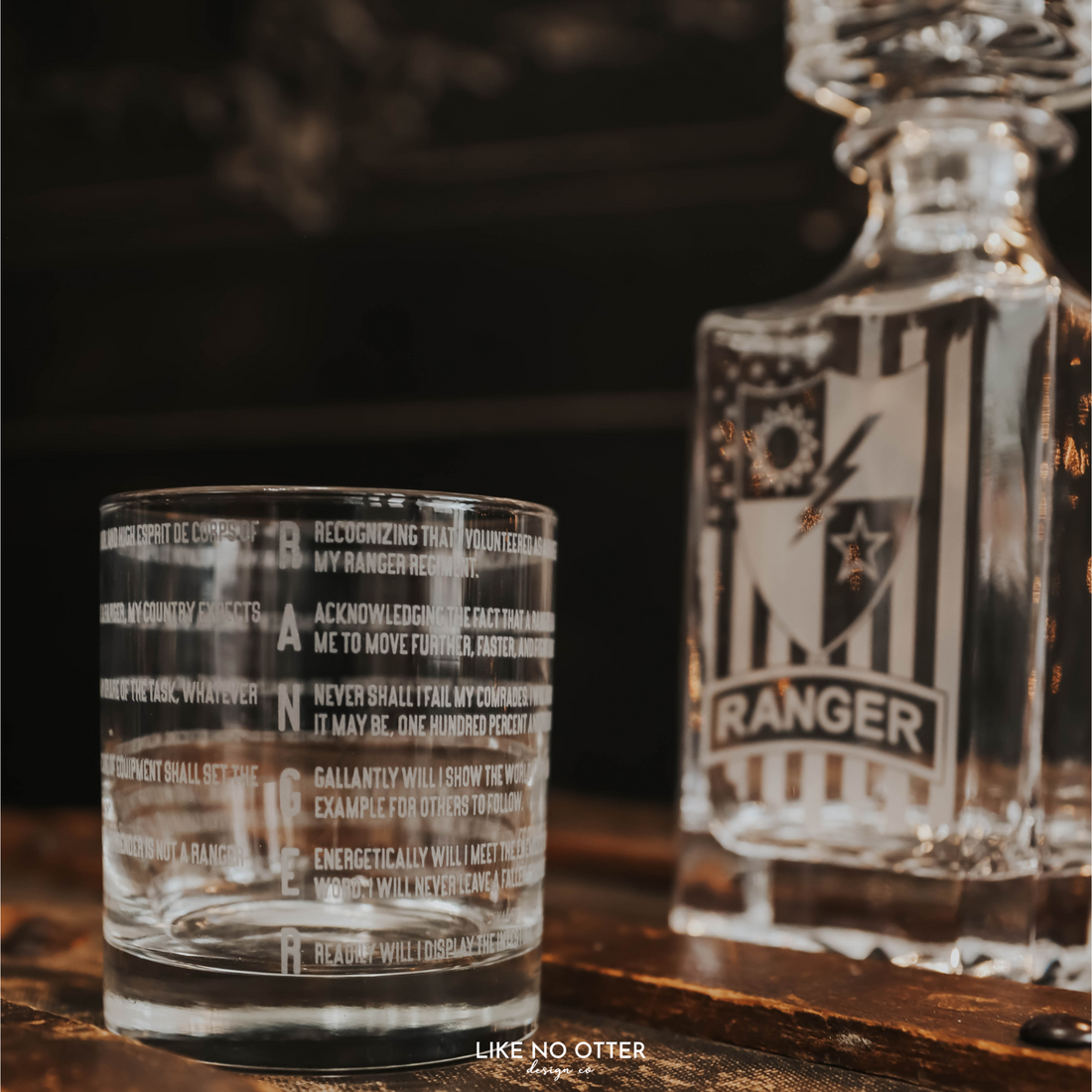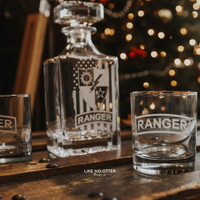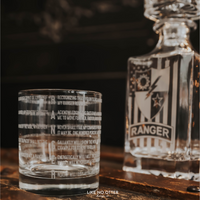 Ranger Inspired Decanter with Ranger Tab
RLTW! Elevate your home bar with our Ranger-Inspired Personalized Decanter Set, a symbol of unwavering courage, honor, and commitment. This meticulously crafted set includes a 750 ml decanter adorned with the iconic American flag, Ranger DUI (Distinctive Unit Insignia), and Ranger Tab. Each piece is custom engraved using cutting-edge technology, ensuring a smooth, even sandblasted appearance that preserves the finest details, making it an exceptional work of art.

Key Features:

- Ranger-Inspired Design: The 750 ml decanter proudly showcases the American flag behind the Ranger DUI and Ranger Tab, paying tribute to the bravery and dedication of the elite Rangers. The rock glasses feature a full-wrap design of the Ranger Creed, capturing the essence of honor, duty, and integrity.

- Custom Engraving: Personalize your set by adding a name, rank, or special date. Our expert engravers meticulously craft your chosen details, creating a bespoke masterpiece that reflects your pride and connection to the Ranger legacy.

- Superior Craftsmanship: Crafted from high-quality glass, our decanter and rocks glasses are durable and crystal clear, allowing you to enjoy your favorite spirits in style. The precision engraved finish enhances the design, creating a tactile and visually appealing surface.

- Optional 11oz Matching Rocks Glasses: Complete your set with our optional 11oz rocks glasses, which can be found in our glassware collection to be added to your order separately.

- Exceptional Centerpiece: Make a bold statement with this Ranger-inspired decanter. Whether displayed in your home bar, office, or living room, this decanter commands attention and serves as a powerful symbol of honor and pride. It's the perfect centerpiece for any decor.

- Ideal Gift: Honor a Ranger in your life or celebrate a special occasion with this thoughtful and meaningful gift. Personalize it with their name or rank, creating a cherished keepsake that embodies the spirit of the Rangers.

Embrace the spirit of the Rangers and add a touch of bravery and honor to your home with our Ranger-Inspired Personalized Decanter Set. Each piece is a testament to the elite forces, a symbol of respect, and a reminder of the sacrifices made for our freedom. Experience the art of personalized craftsmanship and celebrate the legacy of the Rangers today!

Our products are made to order! Our standard processing time is 3-5 business days to prepare your order to ship.
Due to the custom nature of our products, we do not accept returns on our products unless there is a material defect reported within 7 days of delivery. Please refer to our return policy for more information.